I remember writing a post to some homeschooling friends when Addison was in about the second or third grade. I compared finding a good language arts program to hunting for the Holy Grail. Imagine Indiana Jones brandishing his whip as he snuck between booths in the vendor hall at a large homeschooling convention.
I really thought that by now, five or six years later, that I would've found the Language Arts Holy Grail. I still dream of finding a program that spells out everything I need to cover everything I'd consider part of the all-encompassing "Language Arts" label -- reading, literature analysis, composition, vocabulary, spelling, etc.
Instead I still search. In a sense, I'm glad I haven't yet labeled one product "The Holy Grail" and quit searching. I keep uncovering language arts treasures along the journey.
Addison has been using one of Hewitt Homeschooling's Lightning Literature programs lately. I gave her the choice of several of their high school level courses, and she chose "American Literature: Mid-Late 19th Century."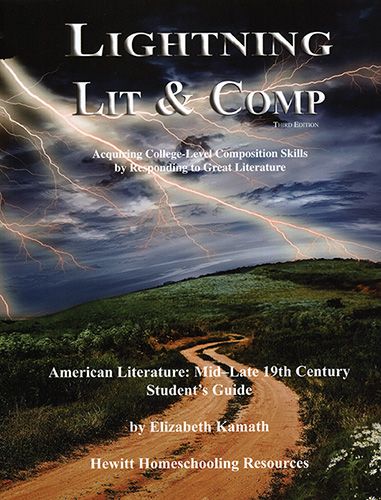 This semester long course covers:
*
Uncle Tom's Cabin
by Harriet Beecher Stowe
* Selected poems by Walt Whitman
* "The Outcasts of Poker Flat" by Bret Harte (short story)
*
Adventures of Huckleberry Finn
by Mark Twain
* Selected poems by Paul Laurence Dunbar
*
The Red Badge of Courage
by Stephen Crane
* Selected poems by Emily Dickinson
*
The Call of the Wild
by Jack London
Each of the eight lessons includes comprehension questions, a literary lesson, and several suggestions for writing assignments. The comprehension assignments are a variety of short answer, multiple choice, and matching questions. Most of them are fact-based, not interpretive or analytical. The literary lessons cover theme, sound and imagery, humor, description, figurative language, and more.
A big focus of this curriculum is the writing assignments. In fact, Addison said, "It's a writing program based off of literature rather than a literature program with a bit of writing." Over the course of the semester, the student is expected to write 12 papers -- 2 for each of the longer works and one for each of the shorter works. The materials suggest that each of these papers is approximately 2 pages or 3-5 paragraphs long. For Addison the prospect of writing 12 papers in 18 weeks was a bit daunting. There is an alternate year-long schedule that we could use or I could simply require fewer papers while covering the reading assignments at the same pace.
In terms of the writing assignments themselves, I liked the choices that the student was given. There were 5-8 options for each work, and the choices were divided between formal literary analysis papers and creative writing assignments. For instance, one of the options for Huckleberry Finn is, "Huck undergoes a great chance in the way her perceives slaves. Write a paper illustrating that change, using quotes from the book to support yourself." Another option for the same book reads, "Write a humorous description of someone you know. Use at lease one humorous simile or metaphor." (The literary focus for
Huckleberry Finn
was humor.) For the poetry lessons, at least one of the writing assignment suggestions is to write a poem that meets certain criteria.
So what's the bottom line? Is this finally the Holy Grail I've been looking for? I don't know. I'm beginning to suspect that I'll never find a perfect program.
What I have found is a real treasure for High School level classes. Addison still needs a bit more writing instruction before she really digs into a program like the high school Lightning Literature courses. It provides lots of composition practice, but only a little composition instruction. I do think these materials are great preparation for a college level class that requires lots of literary analysis papers, and I may look at getting another one of the Lightning Literature courses for Addison to use in her Junior or Senior year.
The student guide for the
American Literature: Mid-Late 19th Century
is 160 pages long and costs $29.95. The companion teacher's guide contains a suggested daily schedule, grading guidelines, and answers to all of the comprehension question for only $2.95. Hewitt Homeschooling offers 12 different
Lightning Lit
options for high school students, each a semester's worth of work. There are also Lightning Lit materials for seventh and eighth grade students.
Disclaimer: I received
Lightning Lit & Comp, American Literature: Mid-Late 19th Century
as a member of the 2012 TOS Homeschool Review Crew, and I received no other compensation. In return, I agreed to give an honest review of the materials and how they worked for my homeschool family.