I sometimes worry when I receive computer software to review with my children. Lauren has very definite likes and dislikes when she spends time on the computer. I'd love to evaluate materials based solely on their educational content, but the practical side of me knows that any program that I'll actually use has to pass the Lauren-test.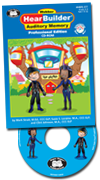 HearBuilder Auditory Memory Software
impressed me with the skills it covers and quickly became one of Lauren's most requested computer activities. Brennan and I also found ourselves playing "just one more game" on HearBuilder so that we could reach a higher level and get closer to finishing the mission. The higher levels were sometimes quite a challenge for me.
The program teaches key important listening and learning skills such as memory for number (3-7 digits), memory for words (3-5 words), memory for details (1-4 details), auditory closure (sentence completion), and memory for WH information.
I enjoyed challenging myself with the number memory activities. It was particularly difficult at the higher levels because the program paused for a few seconds before it allowed me to enter the answer.
Lauren's favorite activity was the memory for details. After hearing a brief description, she would have to pick the matching character. For instance, "Find the girl with the yellow shirt who is not walking a dog."
I'm interested to see how Lauren does as she progress through the levels on the WH questions. Often when I am reading a book to her, she struggles with remembering the details. The WH sections gives tells the student a few sentences about a mission and then asks related questions. For instance, "Where is the poodle?" or "How many times does he knock on the window?" I'm excited that this program provides plenty of practice in paying attention and then remembering what was said.
This computer program will definitely be a part of our school materials for next year. I may not tell Lauren that it's schoolwork, though. Perhaps I'll just be thrilled that she's getting so much valuable practice while she is playing one of her favorite computer games.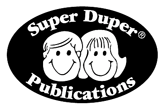 My package from Super Duper Publications included another treat for me -- a catalog of the other products they sell. I had a funny moment one afternoon when Lauren was at speech therapy. She had just finished her latest evaluation, and her speech therapist was giving me some recommendations. She mentioned a few products available from Super Duper Publications and offered to look up the website address for me. Once I stopped laughing, I told her I had just been drooling over my copy of their latest catalog. I now have an even longer "wish list" of things I'd like to order from them.
HearBuilder Auditory Memory is available from
Super Duper Publications
and normally costs $69.95 for the Home Edition. For the next month, you can use the coupon code BLGAM30 to receive a 30% discount on the program (expires 8/31/12).
Disclaimer: I received the HearBuilder Auditory Memory software as a member of the 2012 TOS Homeschool Review Crew, and I received no other compensation. In return, I agreed to give an honest review of the materials and how they worked for my homeschool family.