I'm a big fan of magazines, and I almost always have an issue or two tucked into a tote bag that I grab on the way out the door. I recently received four gorgeous issues of Creation Illustrated magazine to tuck into my bag and enjoy while I waited at doctors' appointments or therapy sessions in the gym.
Creation Illustration
is a gorgeous publication that glorifies God on every page. Their ministry is "dedicated to the eternal impact of sharing Biblical truth through the blessings of God's creation."
When I first saw the magazines, I was immediately impressed with the quality of the photography. Whether it was a snapshot of a baby gazelle nursing from its mother, a portrait of a canoe gliding through the waters at sunset, or a close-up of a gila woodpecker resting on a cactus, all were stunning. Many could be framed for display.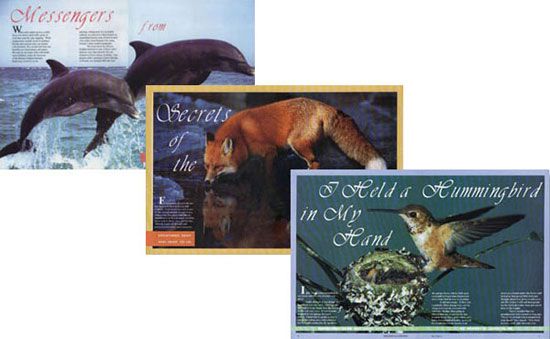 Each issue contains a variety of articles that appeal to quite a large audience. Nature lovers will appreciate an article detailing the many birds that live in Arizona's Saguaro National Park. Outdoor enthusiasts will enjoy the tale of a park ranger that sang to a group of Muslim campers when they started to threaten her. Children can read the story in each issue aimed specifically for a younger audience or participate in the ongoing photography contest open to children ages 5 to 15.
Throughout all the articles, one theme resonates time and time again -- the beauty and majesty of God's creation. We have so many reasons to praise God, and Creation Illustrated offers beautiful reminders of God's glory.
Unfortunately, my family wasn't excited about reading these magazines. The pictures and the topics were interesting, but it wasn't exactly what we expected, and the liberal Scripture references were a little overdone for our taste. This magazine is a refreshing break from the busy modern lifestyle my family lives, but at the same time, we struggled to connect with it.
Please don't just take my word for it; plenty of families love this magazine. You can click on the Review Crew link below to read other reviews. Better yet, request a
free introductory issue
to find out what your family thinks of the magazine. You can cancel after the first issue if you aren't pleased with what you see and read. Subscriptions cost $19.95 for a year (4 issues), $37.95 for two years, and $54.95 for three years.
Disclaimer: I received 4 issues of
Creation Illustrated
as a member of the 2012 TOS Homeschool Review Crew, and I received no other compensation. In return, I agreed to give an honest review of the materials and how they worked for my homeschool family.