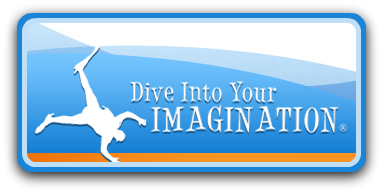 Years ago, Tim came back from a deployment talking about how he got to Scuba dive off the coast of Africa. He even brought back a few snapshots taken with a disposable camera. I tried to imagine the underwater beauty, but I know that I didn't come even close.
Dive Into Your Imagination produces DVDs that show children the stunning beauty of the ocean. Instead of gushing about how beautiful the cinematography is, I'll just let a video clip speak for itself: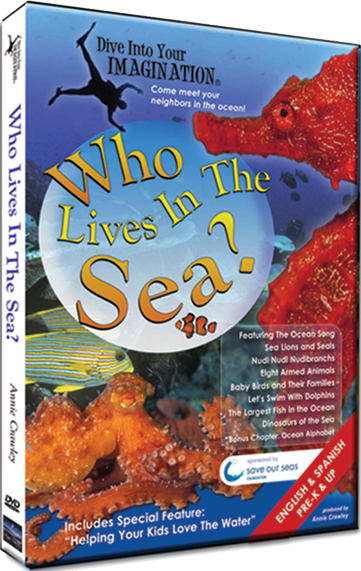 I received one of three DVDs aimed at preschool or elementary school children -- "
Who Lives In The Sea?
". It was approximately 45 minutes and was divided into eight short clips that featured a single animal at a time. We learned about dolphins, sea lions, octopuses, nudibranches, turtles, and other ocean creatures. Addison (my eighth grader) walked through at one point and told me how well some of the segments would correspond to her high school biology course.
In addition, I also received pdf copies of the Educator's Guides that correspond to the videos. These guides are awesome! They turn a 45 minute long video into a unit study that could easily last for more than a week. Each guide is over 300 pages full of information, discussion ideas, hands-on activity stations to set up, and printable sheets to complete. I'm most impressed with the way character lessons are taught through the study of marine animals. At the early elementary level, these character lessons include family relationships, play, enthusiasm, curiosity, flexibility, and more.


The three DVDs in this series (What Makes a Fish a Fish?, Who Lives in the Sea?, and Dive Into Diversity) cost $19.95 each and are available to purchase online at the Dive Into Your Imagination
store
or Annie Crawley's
store
. (Annie Crawley is an underwater expert and creator of Dive Into Your Imagination.) She is currently offering free shipping on any product purchased from her store in June. The Educator's Guides were originally designed for a school market and are quite expensive. Annie Crawley has generously offered to give pdf copies to any homeschooler that purchases the DVDs. Be sure to make note indicating that you're a homeschooling parent when you check out.
If you'd like to hear what the other members of the review crew thought about Dive Into Your Imagination videos and Educational materials, please visit The Old Schoolhouse Review Crew blog
here
.
Disclaimer: I received a DVD and two corresponding Educator Guides (pdf's) as a member of the 2012 TOS Homeschool Review Crew, and I received no other compensation. In return, I agreed to give an honest review of the materials and how they worked for my homeschool family.