Sometimes when I review a homeschool product, I learn more about myself than I do about the product. I learn what works for my family, and I learn to appreciate the wide variety of homeschool materials available to choose from.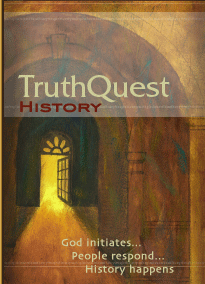 TruthQuest History
approaches history from a Biblical point of view. "History, therefore, is not first about what people do. It is first about what God does and says, and secondly about what people believe and do in response. The exploration of history, then, should reveal God and His truth, not glorify the achievements of mankind." I've heard about studying ancient history from a Christian point of view, but I've never before seen a curriculum that looks at modern events in light of God's plans. I'd highly recommend reading more about their approach on their homepage:
What is TruthQuest History?
.
The most distinctive part of the TruthQuest History materials is the Introductory comments for each unit. These comments framed the historical time period in light of God's truth. Perhaps the best way to show what this material is like is to simply give an example from the discussion about World War II.
"Yes, this guide is about American history, but we have been linked with Europe. Why? To answer, you must remember again that history is not first about what people do, it's about what they believe to be true, especially the Big 2 Beliefs -- who is God, and who, then is mankind. Since most Americans came from Europe, so did their beliefs. And the 'human progress' beliefs, the 'evolution' beliefs that we've talked about (they're linked), had been popular in Europe first. Watch now, then: is it true that bad beliefs make bad trouble? Though this is reason enough to look at Europe for a bit, we must anyway, because Europe's troubles got so big that America jumped in. Into what? World War II!" (TruthQuest History, American History for Young Students III, page 135)
I like the way that TruthQuest History uses real books. Each chapter has at least a dozen book recommendations to choose from -- some nonfiction selections, some biographies, some historical fiction, and even lots of good picture books. Some of these selections are a "spine" that will be referred to again and again, and other books fill a specific smaller need. My children tend to remember what they've learned in history when it comes to life through stories.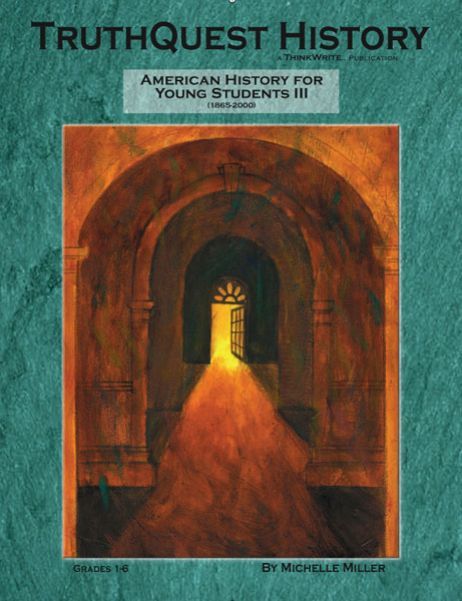 We received American
History for Young Students III:1865 - 2000+
, which is intended for grades 1-6. I have a Kindergartener, a fifth grader, and an eighth grader. I had high hopes that I'd be able to do some of our history studies together by using this guide.
The biggest thing I learned using these materials is that I just can't deal with an all-you-can-eat buffet approach to history. There are many more suggested resources than a parent would ever need, and the author does not intend for you to cover them all. In the introductory materials, she calls it "a smorgasbord" and encourages parents to "enjoy all the delicious options." Instead of seeing all the delicious options, though, I became quickly overwhelmed with the thought of all of them.
I also discovered that I really struggle to handle a curriculum that doesn't line out daily or weekly assignments. These materials are divided into 36 different topics. That's an easy problem for a former math major to solve -- spend approximately 5 days per topic and finish in a standard school year. Then I looked a bit more closely at the topics. Reconstruction would be fairly easy to cover in a week, even if reading the 200+ page novel I picked is a bit much for us to read-aloud. Others would require me to either camp out in that time period for a long time or make some serious cuts. For instance, when talking about technology in the early 1900s, which of the 25 big inventions or events do I want to cover? Which are worthy of devoting enough time to read an entire novel about? A few units later, I need to decide which artists, musicians, and authors are most important to teach my children about. How many weeks do I want to devote to World War II? Which of the many read-aloud and reader choices would be best to study?
Perhaps the bottom line is that I'm not willing to devote the time that I would need to spend to translate all of these wonderful ideas into a workable schedule for my family. At the point where I am right now, I need a history schedule that is completely lined out for my kids. Realistically, that's my best hope for being able to juggle three kids on very different levels and with very different needs.
That's just the way this product worked in my house. My good friend Debra at Footprints in the Butter had a completely different experience with her TruthQuest materials. She has embraced the freedom that TruthQuest History materials offers and is now teaching history to all of her kids at the same time. (Her five kids span roughly the same age range as my three kids. ) I'd highly recommend that you read her review
here
. You can also click on the Homeschool Crew banner below to see the reviews by other crew members.
TruthQuest History offers eight guides for 5th-12th grades which begin with Creation/ancient history and cover European and American history to just after the year 2000. They also offer three American History guides for younger students, approximately 1st-6th grades. Each guide is available either as a printed book or as a PDF file. The PDFs range in price from $19.95 to $29.95, with the printed copies being only a few dollars more expensive. The
How to Choose
page on their website lists all the products and includes links to each book's table of contents, sample pages, and more.
Disclaimer: I received a pdf TruthQuest History guide as a member of the 2011 TOS Homeschool Review Crew, and I received no other compensation. In return, I agreed to give an honest review of the materials and how they worked for my homeschool family.