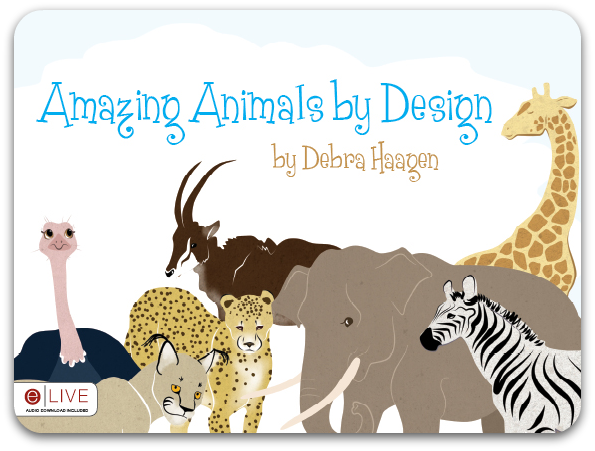 Sometimes I feel like a mere blog review cannot do a product justice. I wish I could sit down with a cup of coffee and show you what I've been reading to Lauren lately.
Amazing Animals by Design
by Debra Haagen is such a lovely book with a fabulous message to share. I have the digital version loaded onto my nook, and I can only imagine how gorgeous it would be as a physical book.
Lauren loved reading the book and learning all about zoo animals. Not just any zoo animal book would get such a whole hearted stamp of approval from me, though. This book does more than talk about elephants and zebras and giraffes. It teaches a child about how God designed each animal to have a specific purpose. The giraffe eats the leaves out of the trees, the caracal jumps up to twelve feet in the air to catch birds, and the Barbary sheep never have to take a single drink of water.
The children in the story also learn that God has a special design and purpose for their lives too. "Most importantly, He gave you a few things the animals do not have. He gave you a mind to reason and a heart to love others and Him. He created you to think, to make decisions, and to be creative. He made you in His own image." What a special lesson to share with my children!
Amazing Animals by Design
can be purchased
here
for only $7.99 as a digital download or $8.99 for a paperback copy. I'd recommend this 24 page book to parents and teachers of preschoolers and younger elementary aged students.
If you'd like to learn more about this wonderful book or about the author (a military wife and a homeschool mom), be sure to visit her
website
. As always, you can visit The Old Schoolhouse Review Crew
blog
to hear how much the other members of the review crew loved their copies of Amazing Animals by Design.
Disclaimer: I received a digital copy of Amazing Animals by Design as a member of the 2011 TOS Homeschool Review Crew, and I received no other compensation. In return, I agreed to give an honest review of the materials and how they worked for my homeschool family.