I've always been a big reader, and I've also been a very fast reader. Some people savor books, but I devour them. My oldest daughter is the same way. Although I love the fact that I can read lots of books, I do realize that reading quickly comes with a price. I often read so quickly through a book that I completely miss some of the best parts.
Progeny Press
offers over 100 detailed literature study guides for all ages -- elementary through High School. All of the guides focus on critical thinking, comprehension, literary analysis, and Christian application. I was able to choose a guide at a middle school level and another at a high school level to use with my two oldest students. Brennan, our fifth grader, and I used
The Bronze Bow Study Guide
together. Addison, our eighth grader, worked through the
Pride and Prejudice Study Guide
mostly independently.
Progeny Press recommends that the student reads the entire novel during the first week and then working through the guide over the course of the next 8-12 weeks. It really didn't work for us to do that much reading in a single week, especially since I was reading
The Bronze Bow
aloud to Brennan. Instead, we read a section of the novel and then worked on the corresponding Study Guide materials. I was impressed with all that was included in each section of the Study Guide.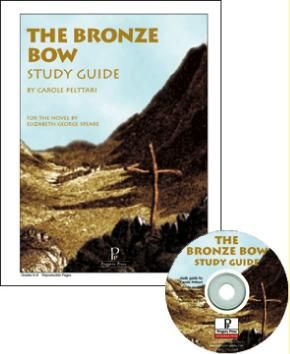 For
The Bronze Bow Study Guide
, each unit covered approximately three chapters in the book. The activities for studying vocabulary varied from section to section and included crossword puzzles, multiple choice questions, matching sections, and just writing the dictionary definition. Each section then asked a series of factual, short-answer style questions designed to make sure that the student remembers details from the story. Thinking About the Story questions asks the student to share an opinion about what happened. For instance, "Why do you think Thacia refuses to greet Daniel?" There are also wonderful Dig Deeper sections that challenge the student to apply scriptures to a situation or character from the book. In one of the Dig Deeper questions for The Bronze Bow, we read several Old Testament scriptures and determined if they fit the view of the Messiah that Joel shares in the book. Over the course of the guide, various sections also covered setting, conflict, mood, theme, and symbolism.
I enjoyed using the Study Guide with Brennan. He did a few of the activities independently, but I primarily used it to guide our discussions. I'm pleased to report that we were able to discuss more than just who said what. As a teacher, I realize that I need a guide like this if I want us to truly analyze the story.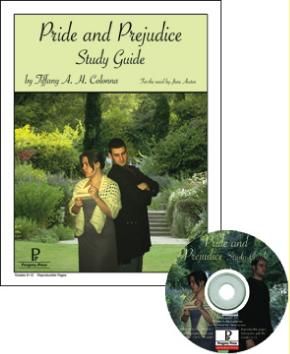 The
Pride and Prejudice Study Guide
was similar in format to
The Bronze Bow
but was significantly longer (76 pages versus 60). I thought that the questions, especially the Dig Deeper questions, required quite a bit of thought and analysis. For instance, "God has blessed Lady Catherine with extreme riches and position and with authority over many people. Read Proverbs 28:11, Mark 10:42-44; 1 Timothy 6:17-19; Titus 2:7-8. How does Lady Catherine's character measure up to these verses?" The Pride and Prejudice Study Guide is laid out so that it would take 14 weeks by doing a section per week. It could easily be expanded by using some of the optional activities and some of the essay suggestions. I would consider it a challenging semester long Literature course for a High School student.
Addison worked independently on the
Pride and Prejudice Study Guide
and says it greatly enhanced her reading of the book. She gave me an example taken from a question about irony and dramatic irony. When she initially read the scene in the book, she skipped right over the phrase, "Mary, who
piqued
herself upon the solidity of her reflections." When the study pointed out that piqued means to take pride in herself, Addison realized the humor Jane Austen intended when she noted that the person talking about pride was herself quite prideful. She also points out that the essay suggestions are not an integral part of the program. She was still able to do her other writing program and did not feel like she had to do the essay suggestions. The short answer questions she worked through were sufficient for literary analysis.
When I showed Addison
this list
of study guides available for high schoolers, she easily found a half-dozen that she'd like to do. As for me, I will likely purchase more of the Study Guides. I don't know that I want to do a detailed study on every book that I read with (or assign to) my children, but I see a lot of value in slowing down to analyze literature.
Progeny Press
Study Guides for Literature range in cost from $10.99 (elementary level) to $18.99 (high school level) for the electronic version. They offer print copies or print copies including a CD version for a few dollars more. They do offer a 15% discount for military families.
If you'd like to hear what the other members of the review crew thought about Progeny Press Study Guides, please visit The Old Schoolhouse Review Crew blog
here
.
I received two Study Guide downloads as a member of the 2011 TOS Homeschool Review Crew, and I received no other compensation. In return, I agreed to give an honest review of the materials and how they worked for my homeschool family.