We've all heard all sorts of stories about the dangers lurking on the internet. As a parent, I have a love-hate relationship with the wealth of knowledge available online. I like that my children can interact with friends, take online classes, read reviews of whatever toy they'd like to buy next, and do all sorts of other things online. I don't like everything that they can be exposed to online. I'd love to find the balance between giving my children freedom to be online and protecting them from things that they shouldn't see online.
Action Alert
offers 8 Internet Safety Tools in one: access control, activity notification alerts, activity video recording, site blocking, content filtering, keystroke logging, and chat/email logging.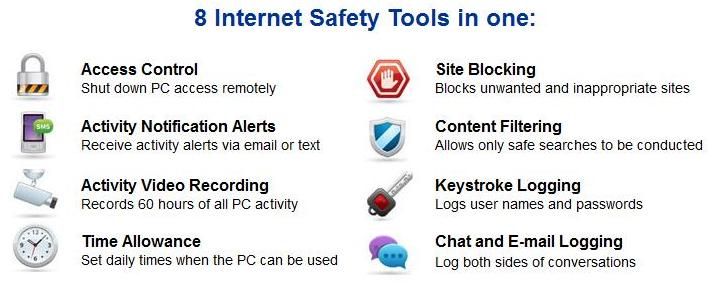 The access controls require the computer to be set up as individual users (through Windows); each user can have specific times during the day when they are allowed online. Each user can also have specific allowed or blocked websites. The activity video recording allows you to scroll through the previously accessed sites similar to the way you'd view a security camera recording.
According to Action Alert, their tools primarily work as an accountability devise. "Action Alert sends a message to your cell phone or e-mail when an event occurs that you should be aware of. This message lets parents know they should take a look at the computer and probably have a talk with their young computer user." In addition, Action Alert will allow a parent to remotely block the child's internet access if they receive such an alert message.
Instead of relying on an accountability tool, I'd rather prevent my children from accessing websites with questionable content in the first place. I was disappointed that my child could do a "safe search" using Action Alert for things most parents would not approve of. I tried this feature out myself. When I responded to the resulting alert message, it took about 10 minutes for the internet access to be shut off. A child could see a lot of questionable things during that long of a delay.
Action Alert offers a basic version of their internet protection product for free. The Maximum Protection product is $29.99. It allows multiple users and allows full social network monitoring. Action Alert is only available for use on Windows based computers.
If you'd like to hear what the other members of the review crew thought about Action Alert, please visit The Old Schoolhouse Review Crew blog
here
.
I received a download of Action Alert Maximum Protection as a member of the 2011 TOS Homeschool Review Crew, and I received no other compensation. In return, I agreed to give an honest review of the materials and how they worked for my homeschool family.