Last year, we were blessed to receive a trial subscription to
Kinderbach
so that I could write a review. You can hear how much Lauren loved the program
here
. I was excited to hear that I was chosen to write one of this year's Crew reviews about Kinderbach.
Kinderbach is a series of online videos and printable lesson materials designed to teach young children musical skills, including how to play piano. I am still very much amazed at the quality of the Kinderbach materials. I am impressed that it teaches so much musical vocabulary and theory as it teaches the basics of piano playing.
Unfortunately, Lauren wasn't nearly as interested in watching the Kinderbach lessons online this year. The videos are appropriate for the intended 3-7 year old audience, and they do not seem babyish. I think in our case, Lauren objects to watching videos on the computer because all of the rest of her computer experiences are interactive. Kinderbach is mostly watching and occasionally working along on a printed page. For instance, in one of the earlier lessons, the child is discriminating between high and low notes. Lauren would prefer to click something on the computer to show high or low than to sit at the computer and color high or low apples on a piece of paper.
Lauren does enjoy taking a printed sheets of music from her Kinderbach lessons and playing them on the piano. Perhaps she would benefit more from Kinderbach if we spent more time doing the printable pages, more time playing the piano, and less time watching the online videos.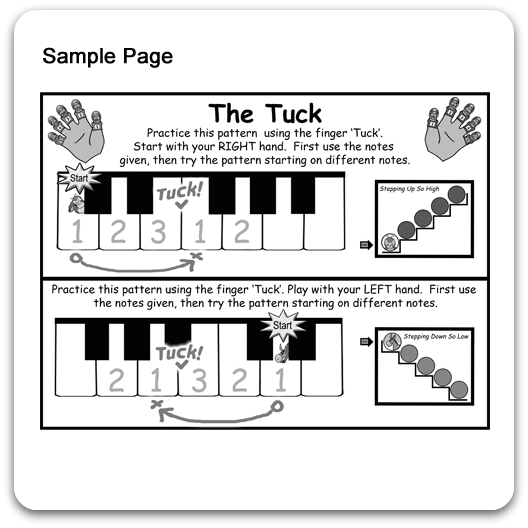 Kinderbach has several free lessons available online, and they offer a 30 day money back guarantee when you purchase a subscription. Online lessons cost $19.99 per month or $95.88 for a year's subscription. The same lessons are also available on DVDs with packages starting at $40.45 (plus shipping/handling).
If you'd like to hear how much the other members of the review crew thought about Kinderbach, please visit The Old Schoolhouse Review Crew blog
here
or click on the banner below.
I received a trial subscription to Kinderbach as a member of the 2011 TOS Homeschool Review Crew, and I received no other compensation. In return, I agreed to give an honest review of the materials and how they worked for my homeschool family.