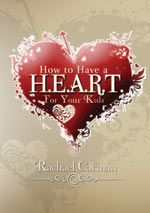 Last year I finished off the Homeschool Crew year with a special review treat that was mainly for me. I promised myself that I'd start looking at the parent resource sections in the homeschool curriculum catalogs. One of the catalogs that I keep picking back up (and drooling over) is the now dog-eared one I received from
Apologia
.
I was more than just a little excited when I found out that my first review item for this school year can be found in the "books and resources" section of my battered Apologia catalog. (Their great parent resources are found in the online catalog
here
.)
How to Have a H.E.A.R.T For Your Kids
by Rachel Carman is a real treasure. She takes the word heart and uses it as an acrostic poem to remind all of us to get our priorities in line with God's word. She challenges us to develop a heart for the things of God when we seek Him through Bible study, prayer, and worship. She encourages us to take the time to keep the spark alive in our marriages; our children need to see a Godly example of marriage. She teaches us to accept our children and also to release them to God. Finally, she exhorts us to teach them the truth.
Throughout the book, Rachel Carman speaks as a loving mentor -- a homeschooling mom that has been in the trenches with the rest of us. She admits that homeschooling is hard and parenting can be frustrating. Nevertheless she encourages all of us to choose our focus and to run without growing weary.
Apologia offers a sample chapter that you can download
here
. It's a very generous sample -- the entire introduction, a full 24 pages long. I honestly can't imagine that anyone could read the introduction and not want to read the rest of the book.
This book will inspire, encourage, and challenge homeschool moms. I cannot recommend it any more highly. It's available to purchase directly from Apologia for just $13 -- a true bargain in my mind.
If you'd like to hear how much the other members of the review crew loved their copies of
How to Have a H.E.A.R.T. for Your Kids
, please visit The Old Schoolhouse Review Crew blog
here
.
I received a free copy of How to Have a H.E.A.R.T For Your Kids as a member of the 2011 TOS Homeschool Review Crew, and I received no other compensation. In return, I agreed to give an honest review of the materials and how they worked for my homeschool family.