When Addison was younger, I remember reading some books so many times that I could recite them in my sleep. In fact, I might still be able to recite portions of Dr. Seuss's
Are You My Mother?
ten years later.When they find a good book, kids naturally like to hear it over and over again. I'm reminded of the way that I sometimes like to hear my favorite songs over and over, and I try to be patient when I'm asked, "One more time?"
The
Five in a Row
series of homeschool materials is based on the idea of reading the same book multiple times, specifically reading them five days in a row. With each day's reading, the child explores different concepts and gains a greater appreciation for the book. The original Five in a Row materials were geared towards early elementary students (roughly kindergarten through third grade).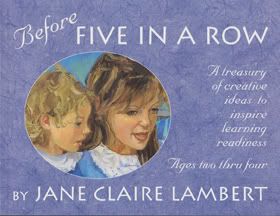 Before Five in a Row
by Jane Claire Lambert is designed for preschoolers, roughly two to four years old. Instead of formal academics, this book shares activities to create special memories with your child and to help develop important the pre-learning skills needed for later educational endeavors.
When I first flipped through the table of contents I recognized several of the book titles as being ones that would definitely make it on a list of our family's favorite picture books. The list of great books includes
Jesse Bear, What Will You Wear?
,
We're Going on a Bear Hunt
,
Corduroy
,
Blueberries for Sal
, and other treasures. The first part of the
Before Five in a Row
book contains twenty-three mini-units based on these beloved picture books.
One of the books I have loved for many years is
Caps for Sale
by Esphyr Slobodkina. The corresponding activities in Before Five in a Row reminded me to make sure Lauren understood that cap was another name for hat and that a bunch of something means many. It also suggested that we discuss the saying, "Monkey see, monkey do." As we read through the book, we found lots of things to count, and we also noticed that the peddler always stacked the caps on his head in the same order. On another day, I introduced a few simple money concepts based on the fact that the peddler sold the caps for fifty cents. There were at least eight or ten concepts that I could discuss with Lauren after we did each day's readings. Other books had suggestions for acting out the stories, and
Caps for Sale
would be a good one for that, too.
As I worked through the materials for a few books, I found that I was learning how to look at a book more closely. I was reading a picture to book to Lauren last week, and I found myself looking closely at the illustrations instead of just pushing forward with the words. I noticed that there were different amounts of each food set out on the picnic basket. When I pointed it out to Lauren, we decided that there were five carrots and five large glasses so that each bunny could have one. There were three medium sized glasses for the chicks, and two tiny glasses for the mice, too. What wonderful discoveries we're finding now that I'm slowing down to savor all of our books.
The second part of the book is a treasury of creative ideas that are not tied to a specific book or theme. It contains activities for building reading readiness and for developing motor skills (both gross motor and fine motor). There are fun play activities that can be used anytime, ideas for bath time, suggestions for in the kitchen, and things to do at the store. I particularly appreciate the way that the book includes so many necessary skills that are often overlooked in the name of pushing academics. It's rare to find a preschool book that gives specific ways to practice balancing, hopping, etc.
These materials are perfect for preschoolers. The activities and discussion topics were a little too easy for Lauren and therefore made it hard to stretch a book out to a full five days. I really wish I had used the Before Five in a Row ideas when Lauren was younger. It would have been particularly useful when Lauren was in the hospital and we reread her favorite books over and over again. I read lots of good books with her, but I didn't think outside the box to build on the stories the way Before Five in a Row does. Now that we've enjoyed looking at picture books the Five in a Row way, I'm considering adding some of the regular
Five in a Row
materials to Lauren's kindergarten curriculum and probably using them for several years to come.
Although there are no sample pages available for Before Five in a Row, there is a special explanation of the book available on the Five in a Row website
here
.
Before Five in a Row
costs $35 can be purchased from
Rainbow Resource
.
If you'd like to hear how much the other members of the review crew thought about
Before Five in a Row
, please visit The Old Schoolhouse Review Crew blog
here
.
I received Before Five in a Row as a member of the 2011 TOS Homeschool Review Crew, and I received no other compensation. In return, I agreed to give an honest review of the materials and how they worked for my homeschool family.