I've mentioned several times how our family loves to play games. Recently, we have played several new cooperative games -- games where the entire family either wins or loses based on how well we play together as a team.
Commissioned
, a new board game from
Chara Games
, combines the strategy of a cooperative board game with the themes of early church expansion found in the New Testament. The result is a complex game that will make avid game players rejoice at finding new challenges to conquer.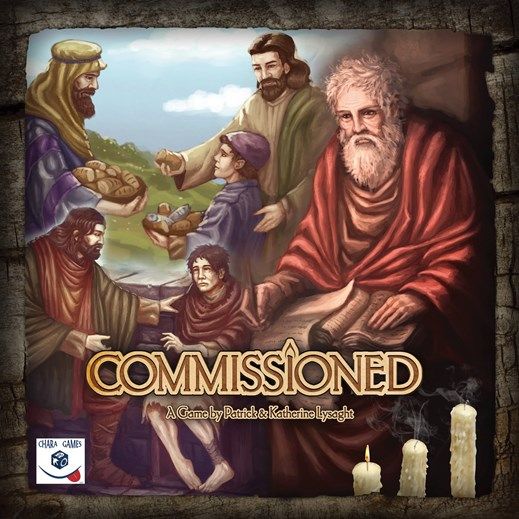 When I unboxed Commissioned, I was immediately impressed with its quality. Not only are all the playing pieces and cards well-made, the illustrations are beautifully done throughout
The directions for the game seemed a bit confusing at first, but Chara Games has an excellent "how to play"
video
that helped us get everything set up and start playing.
With the help of the video, we were able to figure out all of the major components of the game and then continuing playing the game based on the scenario shown in the video. It is a rather complex game, though, and takes a long time to play. There are several steps for players to take during each live phase in the game, but it didn't seem nearly as complex after we played our first few hands. Our first game took a little over two hours (including time spent watching the video) and later games took about an hour and a half. We are still trying to figure out all the complexities and determine our best strategies so we spend quite a lot of time trying to figure out our best moves.
We were a bit more successful in building churches throughout the region on our second attempt, but we still didn't meet our goal to establish a church in every city before the end of the game.
Commissioned has a lot of options to change the game so that it's different every time you play. For instance, you start by choosing one of five scenarios. Then, each player picks one of six apostles to play in the game. Each apostle has slightly different faith cards to use, meaning that they work in slightly differing ways to help the team's goal. I never was very good at calculating permutations and combinations, but I know that five game options with six different apostles makes a lot of different scenarios to try to conquer. Furthermore, the game can be made more challenging by using a more difficult set of trials in the trial deck, rolling the optional message die to limit table-talk during the game, or appointing one player to be the adversary in the adversary variation (for games with 3-7 players).
Commissioned is a high-quality board game that will delight serious game players.
It takes a bit of time to figure out all the interwoven components that work together in this game. Once we understood the basics, however, we were then able to face the challenge of using all the components to effectively meet the challenge ahead of us. On our second game we almost succeeded in reaching our goal of establishing a church in every city on the board. The recommended age on the box is 14 years and up. I think Lauren could play along with the rest of our family, but she would definitely struggle with paying attention long enough to finish the game.
Chara Games recently released a card game called
3 Seeds
. It's aimed at a slightly younger audience (ages 12 and up) and promises to be a bit shorter than Commissioned. I received one of the first sets of the game produced and will be posting a full review of it in the new few weeks.