The past couple of weeks have been so busy around here that I've lost a lot of my 34 Weeks of Clean momentum.
Thankfully, I had worked ahead a little bit on the family room assignment. When I was cleaning the light fixture in the kitchen/eating area, I did the ceiling fan and light in the family room at the same time. There wasn't much deep cleaning left to do in the family room.
I decided that I could part with a few of the throw pillows from the couches. About a year ago, I added some decorative pillows to brighten up our khaki couches and then left the extras stacked beside the couch in case we needed extras. If we haven't needed extras in a year, we can probably do without them for good. And if I ever get tired of the decorative pillows, I'm much more likely to find new decorative ones than I am to want to put all four of the old khaki ones back out.
Michele also challenged us to sort through our DVD collections that week. At first, I didn't even open the DVD drawer. As long as everything fit in its assigned spot, it was okay, right? Eventually I did open the drawer and surprisingly found a stack of rarely watched (or even never watched) DVDs that I could put in the garage sale pile.
When Michele mentioned pictures and scrapbook supplies the following week, I cringed. I used to be a big scrapbooker, but I haven't done any paper scrapbooking in several years. I'm almost embarrassed to show pictures of my current photo situation.
Yes, those are moving boxes, two shelves of moving boxes in my garage. What you can't tell at first glance is the boxes are from more than one move ago. Much of my scrapbooking materials were packed when we moved from DC to Arkansas. They sat almost untouched for our two years in Arkansas, and then I moved them all to Arizona three years ago. Our next move is several months away, and I'm determined not to move these boxes again. I didn't find time to sort through everything during the assigned week, but I've set it aside to work on while part of my family is gone backpacking later this month.
Michele also mentioned digital photos. I have tons and tons of digital pictures -- some sorted, many not. Tim and I have been slowly going through years of digital pictures this whole year. We have a long ways to go, but at least we're working on it.
If I thought the pictures/scrapbooks assignment was tough, this week may have been even tougher -- arts and crafts supplies. I've culled back my collection of arts and crafts supplies a lot over the past few years, but I still have a lot left, mainly knitting needles, crochet hooks, and yarn.
This tote bag and basket are both shoved in the bottom of my side of the closet:
There's also a basket of yarn in the living room with the yarn needed for my "most current" projects and a tote bag with the project that I'm currently working on. I might have a bit of a yarn problem. Thankfully, there aren't any unfinished knitting/crochet projects hanging around here any more.
I wish I could show pictures of neatly organized craft supplies, but unfortunately, my biggest accomplishment this week is probably the fact that I used an entire box of kleenex in a losing battle against spring allergies. I promise that I have a plan in mind and that pictures will be coming.
If you'd like to join me with the challenges, you can find Michele's posts on her
Family, Faith, and Fridays blog
, on
the Facebook page
, or by clicking the button below. She posts a new challenge every Friday and will also be hosting a weekly link-up for any other bloggers who are brave enough to share pictures of their progress. There is also a prize basket giveaway with entries earned by blogging or posting pictures on her blog's FB wall.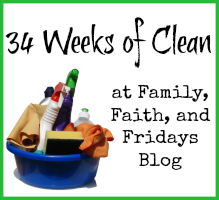 ©2009-2015 Through the Calm and Through the Storm. All rights reserved. Photos and content may not be reproduced.