In this morning's 34 Weeks of Cleaning
post
, Michele wondered if any of us are still sticking with the challenge after facing the bathrooms last week.
I actually didn't mind this week's chores. Cleaning bathrooms isn't my favorite thing to do, but it's not really that hard. For me, it didn't even involve much mental effort in terms of purging or organizing.
I started with the easy bathroom. We have a tiny half-bath off of the entryway area downstairs. It's perfectly simple -- no countertop to clutter, no under the sink storage, not even a medicine cabinet hidden behind the mirror. I took down the glass globes on the light fixture and put them in the kitchen sink to soak. I scrubbed the toilet and sink, put the light fixture back together, wiped the floor, and finished the whole thing in about half an hour.
The upstairs bathroom is bigger and took quite a bit longer. The rug and the shower curtain went into the washer (and then took forever to dry). I thought about replacing the shower liner, but decided that I'd wait until we move this summer to get a new one. There was only a little bit of sorting and purging to do in this bathroom. Mostly I just needed to scrub all the little areas that sometimes get overlooked -- inside the medicine cabinets, the edges of the bathtub/shower, etc. Later, Addison noticed that I had cleaned out underneath one of the cabinets, and she sorted through some of her things that had gathered under her sink.
I did uncover one potential problem brewing. The towel rack was wobbling a bit when I wiped it off so I unscrewed it. It turns out that the holes holding it in place were far too big. They were either drilled too large when the rack was installed or they've loosened over the years of kids hanging up their towels (and perhaps from using the towels without taking them off the rack). As sad as I am to see the holes in the wall right now, I'm grateful that we uncovered the problem now. It would've been a bigger pain if the rack had fallen down right as we were moving out this summer.
If you'd like to join me with the challenges, you can find Michele's posts on her
Family, Faith, and Fridays blog
, on
the Facebook page
, or by clicking the button below. She posts a new challenge every Friday and will also be hosting a weekly link-up for any other bloggers who are brave enough to share pictures of their progress. There is also a prize basket giveaway with entries earned by blogging or posting pictures on her blog's FB wall.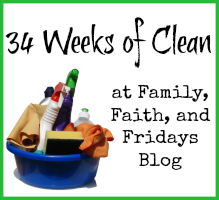 ©2009-2015 Through the Calm and Through the Storm. All rights reserved. Photos and content may not be reproduced.