I am so happy to be finished cleaning and organizing the kitchen. It seemed like some of the messiest chores (scrubbing the oven racks) and some of the most difficult organizing tasks (dejunking the junk drawer) were in the kitchen.
I smiled a bit when I saw that the next area in our 34 Weeks of Clean challenge was the dining room. I thought I'd have an easy week because we don't have a dining room in this house. We do have a dining area, though, and I conveniently skipped over it when working in the kitchen. I still had work to do.
I don't have a china hutch or any other storage spaces in this area so I really just need to clean.
My first step was the table. After several military moves, the alignment for the table is a bit off and the crack to insert extra leaves is a bit wider than it should be. Since I was deep cleaning, I decided to find out what had managed to slip through the crack since the last time we added a leaf for company.
Ick! I found some sticky goop from a spilled drink, a few straight pins, and a couple test strips from my glucose meter.
When I moved on to cleaning the chairs, I tightened up the loose bolts underneath so they wouldn't rattle as much when we move them around.
Thankfully I didn't find too much gunk that had collected on the table and chairs. They really just needed to be wiped down well.
I took a damp cloth to the light fixture above the table, but then decided it would be easier just to take the glass parts off and dunk them in a sink full of soapy water.
While I was at it, I took the glass off the light fixture in the adjoining living room, too. (Since I had the ladder out, I went ahead and dusted the long-neglected ceiling fan blades. If you look closely in the picture you can see how badly the dust had built up.)
I didn't take pictures, but I also cleaned the blinds and the window to the side of the table.
The finished product:
I enjoy seeing the clear surface on the dining table so much that I've remembered to put away the placemats and other assorted items after meals. Without placemats and stray salt shakers lying out, the table collects far less clutter than it used to.
If you'd like to join me with the challenges, you can find Michele's posts on her
Family, Faith, and Fridays blog
, on
the Facebook page
, or by clicking the button below. She posts a new challenge every Friday and will also be hosting a weekly link-up for any other bloggers who are brave enough to share pictures of their progress.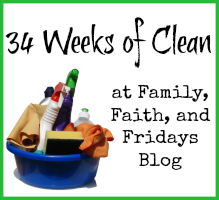 ©2009-2015 Through the Calm and Through the Storm. All rights reserved. Photos and content may not be reproduced. http://throughthecalmandthroughthestorm.blogspot.com