For both Addison and Brennan, I started teaching American History when they were in third grade. Lauren is nearing the end of second grade, and I still hadn't decided on a curriculum for us to use next year. We recently had the opportunity to try
Heroes & Heroines of the Past: American History Curriculum (digital version)
from
Golden Prairie Press
.
Heroes & Heroines of the Past
is a multi-level program suitable for elementary students. The content for most lessons is presented twice, with one reading assignment geared towards younger elementary students (1st/2nd graders) and the other geared toward 3rd through 6th graders. I could start the program now using the simplified readings and then easily move up to the 3rd-6th grade materials in the fall (or whenever Lauren is ready to make the transition).
The backbone of
Heroes & Heroines
is the two textbooks. Together they contain 150 lessons, each with a short reading assignment. Depending on the lesson, there may also be questions, a writing topic, a geography exercise, a picture of historical art to examine, a recipe, or a craft. The textbooks also give lots of recommended resources for families that are interested in adding in additional books or materials. In fact, there are so many supplemental ideas that I could see stretching these materials to last for two school years of history instruction.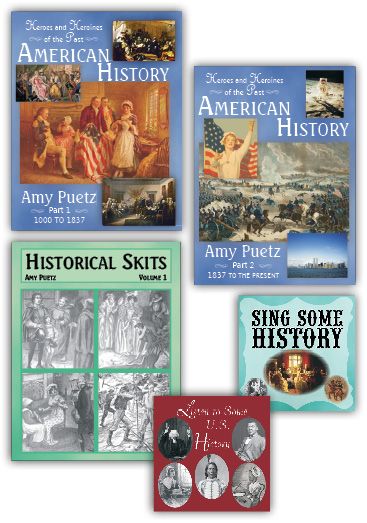 In addition to the textbooks, the
Heroes & Heroines
curriculum includes additional materials to print, such as timelines, coloring pages, and maps. Some of the lessons refer to the audio files that are included with the program to cover music, speeches, poems, and historical documents. Finally, the set includes nineteen historical skits to be performed. These supplemental materials combine with the two textbooks to make a rich, well-rounded educational experience.
When we started the program, Lauren was excited to be learning about American History. Specifically, she was excited to be learning about Christopher Columbus because she has heard references to him in several other books. She also enjoyed doing some of the suggested activities -- reading a book about Native Americans, making hot cocoa because chocolate was discovered in Mexico, answering questions about historical artworks, and building a pueblo house out of clay.
From a teacher standpoint, I love this program. I printed out the first four sections (twenty lessons) and found them to be very well-organized, and it typically took less than five minutes to prepare for the next day's lesson. It was easy for me to glance over the readings, decide which version I wanted to read to Lauren, and then choose which of the extra activities I'd like to do for that lesson. Sometimes I needed to print a timeline or coloring page out of the Additional Materials file. Other times I gathered ingredients for a simple recipe or clay to use for a play dough project. To me, it seemed like a perfect balance of readings from the text, written work, and hands-on activities.
Unfortunately, this program did not work well for Lauren. I'm not exactly sure why, but she had a very difficult time remembering the facts that were discussed in the reading assignments. Perhaps the writing style didn't click with her or perhaps she just couldn't grasp the concepts when a lot of facts were condensed into a short passage. She particularly struggled with the lessons that had a biographical story intended for all ages (1st through 6th grade).
Even though it didn't work for Lauren, I suspect that many other families will find this curriculum to be a wonderful way to study American History. The first three lessons are available as a
free sample
, and I'd recommend reading through them with your children to see how it works for them.
The
Heroes & Heroines of the Past
set costs $98.99 for either the digital or printed version. When using the digital version, I printed most of the pages in black-and-white. When our assignment called for looking at artwork, we looked on the computer to find the color version in the supplemental "Looking at Historical Art" files on the Additional Materials CD. If I were buying these materials for our homeschool, I would get the printed version so that I could have a hard copy without having to print it myself.


©2009-2014 Through the Calm and Through the Storm. All rights reserved. Photos and content may not be reproduced. http://throughthecalmandthroughthestorm.blogspot.com