It's been a crazy few weeks. It hasn't been any major, just a lot of little things that have added up to early mornings, busy days, and late nights.
Finally I realized that I had to get some rest. I was already battling allergies and an ear infection, and I knew I would just end up sicker if I didn't slow down.
I sent this text to my running buddies to explain why I wouldn't be dragging myself out of bed the next morning:
I'm normally pretty strict about getting up fairly early, getting breakfast, and starting school. My fear is that a late start to our day will mean that we won't get anything done and we'll fall behind in our school schedule. I knew I couldn't get pushing on at the pace I was going. Even if it meant taking a day off of school, I had to slow down to catch my breath.
You know what happened when I decided to sleep in a little? Nothing.
I got an extra three hours of sleep and woke up feeling more refreshed than I had in weeks. I took a shower, fixed breakfast for Lauren, and started school with her a few hours later than normal. We still managed to do all of the most important schoolwork for the day. If I remember correctly, we even squeezed in some quiet reading time that afternoon. We didn't get behind in our schoolwork, and we won't be doing assignments in late June just because I slept late one day in March.
As a homeschool mom, I sometimes think that I can't afford to take a break. I learned that it isn't the end of the world to turn off my alarm clock and slow down a little.
Zzzz is for sleeping in when I needed rest. Z also means that I've successfully completed another round of Blogging through the Alphabet with Marcy at
Ben and Me
.
Another round of Blogging through the Alphabet will start in a few weeks. This time I'm going to be sharing a "Years Ago" stories to go with each letter.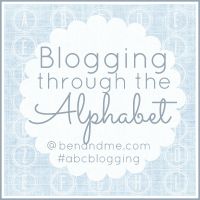 ©2009-2014 Through the Calm and Through the Storm. All rights reserved. Photos and content may not be reproduced. http://throughthecalmandthroughthestorm.blogspot.com