1. Four of our butterflies have spent the past few days flying around in their mesh home on the kitchen table, and we released them into the backyard this evening. We still have one more chrysalis that should become a butterfly next week.
2. I read
The Giver
by Lois Lowry this week and highly recommend it for both teens and adults. I can't believe I hadn't read it before.
3. I have another ear infection, and it turned out rather humorous at the doctor's office. After diagnosing a fungal ear infection, he asked if I minded if a few of the students and techs took a look. About ten or twelve of them traipsed into the room to look at the fuzzy stuff in my ear.
4. Last week, I talked about all the changes we're making because of Lauren's new diet restrictions. This week we found out that Chick Fil A changed the ingredients for the grilled chicken nuggets and that they're no longer safe for Lauren. It's sad (and very frustrating) to lose one of our only remaining restaurant options.
5. Since this week was Spring Break in our area, we took full advantage of having friends available. Lauren loved having a friend in the neighborhood come over to play American Girl dolls, and I loved being able to get some work done while the girls played.
If you'd like to join the Random 5 on Friday fun, you can either click on the cute birdhouse button below or visit
The Pebble Pond
.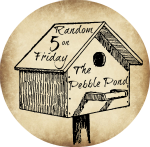 ©2009-2014 Through the Calm and Through the Storm. All rights reserved. Photos and content may not be reproduced. http://throughthecalmandthroughthestorm.blogspot.com