I've often heard it said, "It takes a village to raise a child," even though I haven't read the book Hillary Clinton wrote with that title.
I'm thankful that I've found a village where we are living now.
I'm thankful that we all gathered around a bonfire tonight to sing and roast marshmallows.
I'm thankful that any one of us will take a cookie away from the toddler who tried to sneak it off the platter when his mom wasn't looking.
I'm thankful for friends that text with offers to bring dinner when I was at the hospital with Brennan a month or so ago.
I'm thankful for early morning runs and for friends that understand that stressful days often mean a much faster pace.
I'm thankful that Brennan has friends in the neighborhood to go mountain biking with or just hang out with.
I'm thankful that Lauren has friends within walking distance, too.
I'm thankful that when Lauren broke her arm at a Super Bowl party that I could take her to the ER knowing that my other two kids would be taken care of. (Rumor has it that there was even a bit of an argument about which house they would get to spend the night at.)
I'm thankful for friends that pray for each other and our families.
But most of all, I'm thankful that I'm not having to face anything alone. It's always easier to stand strong with a friend (or a whole village) standing beside you.
Even though my village of friends is #1 in my heart, I saved them for V week in our Blogging Through the Alphabet challenge.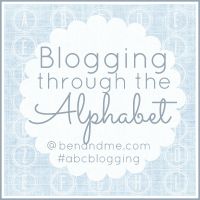 ©2009-2014 Through the Calm and Through the Storm. All rights reserved. Photos and content may not be reproduced. http://throughthecalmandthroughthestorm.blogspot.com