1. I spent much of my weekend watching youtube videos so that I could help Lauren make more rainbow loop bracelets. I wonder how many other moms are sporting this year's coolest fashion accessory?
2. I was doing really well with going to bed at a reasonable time . . . until last night. We were watching the ESPN Gamecast for the OU/Alabama game, and I couldn't tear myself away from the screen. Boomer Sooner!
3. We start back to school on Monday. I've enjoyed the past few weeks of relaxing and letting the kids hang out with their friends, but all good things must come to an end.
4. Up until tonight, I had gone all this year without setting off the smoke detector while cooking.
5. I have a new lens for my camera, and I've been playing around with it a lot lately. I'm happy with it already.
If you'd like to join the Random 5 on Friday fun, you can either click on the cute birdhouse button below or visit
The Pebble Pond
.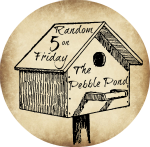 ©2009-2014 Through the Calm and Through the Storm. All rights reserved. Photos and content may not be reproduced. http://throughthecalmandthroughthestorm.blogspot.com