1. Brennan has been studying the Civil War in History. The other day he was telling me about what happened at the Approximation Court House.
2. Addison pointed out a song within a song towards the beginning of Mandisa's
Overcomer
.. If you listen carefully, you can hear a snippet from
Good Morning
playing in the background.
3. We watched the movie
Gifted Hands: The Ben Carson Story
earlier this week. Lauren loved it. In fact, she keeps pulling it back up on Netflix to rewatch the part where Dr. Carson operates on a young girl with seizures. He's healed her at least a dozen times already.
4. Brennan is rocking the long-overdue-for-a-haircut look lately. Addison joked that she should try French braiding it.
5. A new favorite word in our house -- logorrhea. Addison is sure we'll have plenty of opportunities to use it. (If you're too lazy to look up the definition, logo- comes from the greek word logos meaning word and -rrhea is well . . . just go with the first thought that comes to mind.)
If you'd like to join the Random 5 on Friday fun, you can either click on the cute birdhouse button below or visit
The Pebble Pond
.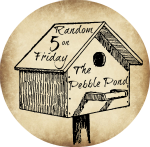 ©2009-2014 Through the Calm and Through the Storm. All rights reserved. Photos and content may not be reproduced. http://throughthecalmandthroughthestorm.blogspot.com