After 50 Blogging through the Alphabet posts, I've hit a wall. I've been trying to think of a Y post all week and nothing seems quite right.
I could blog about my new yoga skirt, but I've already shared one picture of it. I will tell you that I was wearing it at church this morning and got the sweetest compliment. One of my friends told me that she was looking across the auditorium and thought "that's a cute mom" before she realized it was me. She told me that I should consider this one of my keeper outfits, one worth of a spot in my now downsized wardrobe.
My friend Meg (from Adventures with Jude) suggested that I blog about something Yummy. I then thought about making yakitori. I don't think I could do it soy-free, and I wasn't really in the mood to light the charcoal grill. So there's no yummy Y-food pictures or recipes to share today.
When I took first day photos, I included a picture of the sweater I'm knitting. I don't have very much yarn in my stash right now, though, and it's probably not enough for an entire blog post.
Addison suggested that I find a Y song to write about. We searched her iPod and came up with "You Never Let Go," "You Are God Alone," "Yo Ho (A Pirate's Life For Me)," "You Can Call Me Al," "Yellow Submarine," and "You Give Love a Bad Name." It's quite an eclectic collection.
When I was thinking of a Y subject last spring, it was perfect timing to share about my son playing baseball for the Yankees. Unfortunately, I'm only a fan of the Yankees when we're talking about Little League teams.
I bought yogurt at Whole Foods this week. It was even on sale. Allergy-friendly yogurt at a good price is a great find, but hardly exciting enough for an entire blog post.
I even tried thinking of a verse that began with the letter Y so that I could count it as both Blogging through the Alphabet and Scripture and Snapshot. I came up with Matthew 5:14 -- "You are the light of the world," but I didn't find a picture I wanted to use.
Alas, I'm left with a few half-hearted ideas for the letter Y, none of which lend themselves to a whole post. Collectively, I'll call it good enough.
I'm linking this post to Marcy's
Blogging through the Alphabet challenge
. There's only one more week left in this go 'round, but another will be starting in October.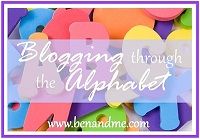 ©2009-2013 Through the Calm and Through the Storm. All rights reserved. Photos and content may not be reproduced.
http://throughthecalmandthroughthestorm.blogspot.com