I accomplished a huge goal yesterday:
That's me finishing an 8 mile race along the very hilly road that circles a local National Park. It was the second of a three race series I agreed to run. Next up: a half-marathon in October.
Since yesterday was race day and a federal holiday, it didn't feel like Monday. I'm a day late posting this weeks goals, but Tuesday is always better than never.
Last Week's Accomplishments:
1.
Beauty Captured
2. I finished reading both
Miles to Go
and
The Road to Grace
by Richard Paul Evans. I'm number 12 in line for the next book in the series. I don't know if I'll pick another fun book to read or if I'll start on
Crazy Love
for an upcoming Bible class series.
3. I'm almost done flagging the best summer vacation pictures.
4. I feel like we're into the swing of school now, even if today was a bit rough after a three day weekend.
5. I'm still working on a reasonable bedtime. I can't help but think of little things that I'd like to do once all the kids go bed.
This Week's Goals: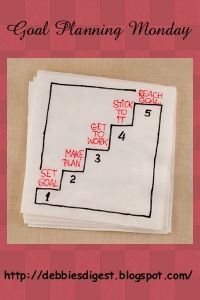 1.
Beauty Captured
posts. I also have a series of flower pictures that I took one morning that I'm hoping to share sometime soon.
2. Work on the dress that I'm sewing for Lauren. I cut it out a few weekends ago, and she's getting impatient for me to finish. She'd love to be able to wear it to church next Sunday.
3. Upload my favorite vacation pictures so that I can start working on photo gifts
4. Stick to a reasonable bedtime!
©2009-2013 Through the Calm and Through the Storm. All rights reserved. Photos and content may not be reproduced. http://throughthecalmandthroughthestorm.blogspot.com