I scribbled yesterday's Goal Planning Monday ideas on a post-it note, but I didn't take the time to post them last night. I'll make it official by posting my goals today.
Last Week's Accomplishments:
1.
Beauty Captured
2. I finished Lauren's dress so that she could wear it on Sunday morning. (Note to self: next time, take pictures before she gets red Kool-Aid all around her mouth)
This Week's Goals:
1. Continue my
Beauty Captured
posts. I've made it for forty consecutive days, finding something beautiful (or otherwise touching) to take a picture of and share each day.
2. Figure out how to sew buttonholes for Lauren's dress. Last weekend I cheated by using snaps under the buttons, but it doesn't look as good as it could.
3. Keep working on my photo projects. I've seen a couple of good deals that I've had to pass up because I didn't have things ready to go, and I want to be ready the next time Snapfish or Shutterfly have a good sale.
4. Sync my iPod with the correct iTunes library -- a lot of my music is currently missing.
5. Work ahead on some reviews so that I'm not rushing (and staying up late) at the last minute.
If you'd like to join in the
Goal Planning Monday
fun, be sure to click the button below. It's even okay if you join simply so that you have a place to brag about what you accomplished the week before.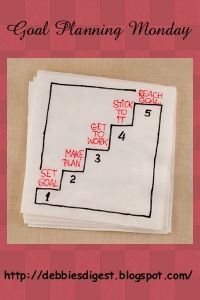 ©2009-2013 Through the Calm and Through the Storm. All rights reserved. Photos and content may not be reproduced. http://throughthecalmandthroughthestorm.blogspot.com