I sometimes look in my closet in the mornings and am reminded of a children's book from long ago -- "Jesse Bear, what will you wear, what will you wear this morning?"
It's not that I can't find anything to wear; it's that I can't decide what I want to wear. Often, my favorites are half-folded, half-tossed on a shelf. Some of my favorite clothes on hangars are tucked behind clothes that are definitely not favorites, clothes that I can't remember when I last wore.
A few months ago I saw a few bloggers posting about Project 333. They had chosen 33 items of clothes, and they were only going to wear those 33 items for the next 3 months.
Hmmm . . . What does 33 items of clothes look like? Is it doable?
I examined my wardrobe and decided that 33 items was definitely doable. I'm not sure I'll make it for 3 months, though. I've decided to try for 33 days.
It's my 33~33 Clothing Challenge.
Since it's my own challenge, I can set the rules however I like. First of all, I borrowed from the Project 333 idea and declared that workout wear (worn only while exercising), pajamas, and undergarments do not count against the 33 item limit. I've decided that I'm only going to limit my clothing options. I will still be able to choose amongst all of my accessories and all of my shoes for the duration of the challenge.
I started today, and in just a few minutes I will fold up all my excess clothes and store them on the very tip-top shelf of my closet. My challenge is not to dig into the excess clothes until at least September 26th.
What did I choose?
Bottoms:
1. Blue jeans
2. Skinny jeans
3. Denim capri pants
4. Black capri pants
5. Chevron print yoga skirt (black/gray/yellow)
6. Black yoga skirt (which will be replaced with a gray one that I just ordered)
7. Khaki walking shorts
8. OD Green casual shorts
9. White skinny jeans
Tops:
10. Orange/cream striped knit shirt
11. Royal blue knit
12. Royal blue and white patterned knit
13. Red patterned knit
14. Blue/green patterned tunic
15. Sheer blouse (navy print)
T-shirts:
16. Black solid t-shirt
17. Black v-neck
18. Gray v-neck
19. White v-neck
20. Bright green solid
21. Light blue solid
22. Orange/white striped v-neck
23. "Dream more, complain less" t-shirt
24. Teal t-shirt with bird/flowers design
25. Oklahoma Christian University t-shirt
26. Superman (aka "Supermommy") t-shirt
Other:
27. White tank
28. White tank
29. Cream tank
30. Gray camisole
31. Red hoodie
32. Black boyfriend sweater
33.
That leaves me one more item that I can pull back out of the storage piles during the next month.
I'm looking forward to seeing if less clothes in my closet does indeed mean less stress when getting dressed in the mornings.
I'm linking my
W
hat
W
ill I
W
ear posts with other
W
thoughts at Ben and Me -- we only have a few more weeks left in this trip blogging through the alphabet.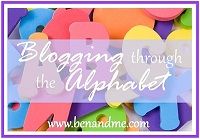 ©2009-2013 Through the Calm and Through the Storm. All rights reserved. Photos and content may not be reproduced.
http://throughthecalmandthroughthestorm.blogspot.com