I think I've mentioned my crazy idea to run a series of three races this summer/fall. The first one was an easy 5K. I'm about three weeks away from the second one -- an eight mile course through the hills of a National Park. The third race isn't until mid-October, but it's already on my mind.
It's the "A Mountain Half-Marathon," and yes, there's a reason it's named after the mountain.
I can see the A from several places around town -- when I'm at the University hospital for Lauren's labwork, when we're on our way to Girls Chorus rehearsals, or when I'm just out shopping on that side of town.
Sometimes when I see the mountain, I think, "What in the world did I get myself into?" Other times, I look at the mountain and think, "No Big Deal. I can conquer that."
This week, I looked at A Mountain and declared myself
Undaunted
. I am "courageously resolute in the face of difficulty," and I will not be discouraged. (definitions from
Merriam-Webster.com
)
U is for Undaunted -- my contribution to this week's
Blogging through the Alphabet
challenge.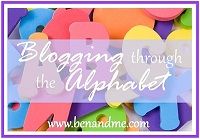 ©2009-2013 Through the Calm and Through the Storm. All rights reserved. Photos and content may not be reproduced.
http://throughthecalmandthroughthestorm.blogspot.com