This week's Goal Planning Update will likely be a bit shorter than some because I'm really trying to start a new habit of going to bed at a reasonable time instead of staying up late at night blogging (and just randomly surfing the internet).
Goals Accomplished:
1. My
Five Days of Picnics
posts for last week's
Blog Hop
turned into six posts that were all posted on time.
2. I also posted pictures of something beautiful each day as part of the
Beauty Captured
Challenge.

This Week's Goals:
1. Count my blessings by looking for something beautiful to share each day.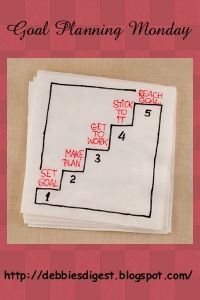 2. Tweak our school routine and commit it to paper. I know what curriculum and materials we are using this year, but I haven't finalized such things as what subjects get covered on which days. I think it would reduce the number of "Do we have to do ______?" questions that I get each day if I posted a schedule.
3. Edit photos and flag my favorites. It's nearly time to start working on photo gifts for Christmas.
4. Read. I finished a novel last week (
Don't Go
by Lisa Scottoline), and I realized how much I miss reading stories when I spend all my time bouncing around amongst non-fiction ebooks.
5. Turn off the computer and go to bed at a reasonable time.
©2009-2013 Through the Calm and Through the Storm. All rights reserved. Photos and content may not be reproduced. http://throughthecalmandthroughthestorm.blogspot.com