1. Escaping the heat of the city and going for a hike is a wonderful way to spend a holiday, especially when the temperature drops 36 degrees on the way up the mountain.
2. Sometimes Pinterest ideas turn out pretty cute. Lauren was proud of the t-shirt we made.
3. It's easier to hike if you're wearing a new pink Camelback.
4. If we set up the camera on a mini-tripod enough times, we'll eventually get a picture that we're happy with.
5. The prettiest views might be found in the rearview mirror. And sometimes even the best photograph can't capture just how beautiful the sunset was.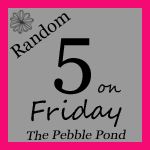 I enjoy sharing five random thoughts on Fridays. If you'd like to join the fun, you can either click on the "Random 5 on Friday" button above or visit
The Pebble Pond
.
©2009-2013 Through the Calm and Through the Storm. All rights reserved. Photos and content may not be reproduced. http://throughthecalmandthroughthestorm.blogspot.com