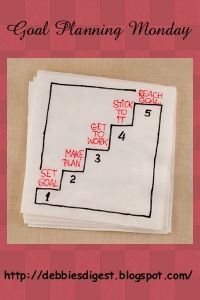 It hasn't even been six weeks since I foolishly declared that some of my ongoing goals had become habits and didn't need to be listed anymore. I was wrong.
For a while, I wrote down my scripture memory verses on index cards that I carried around in my purse. I'd practice them at stop lights or whenever I had a few extra moments. When I was on the computer, I'd take a few moments to review the verses I had learned by using Scripture Typer. I thought that was enough to make sure that I met my goal of memorizing 100 verses this year.
As I got busier, though, I didn't keep finding the time to type my verses for review. I also didn't write new verses on index cards. I relied on Scripture Typer to learn new verses, but then I didn't follow through by using my computer time to review verses.
That leaves me where I am now. I have memorized 40 verses so far this year, but I'm a bit behind in terms of progress for the year.
I set a goal for last week to get caught up on making my index cards, but I didn't have an opportunity to blog the beginning of the week. Since I didn't finish all the cards, I'm continuing the goal for this week.
I'll finish writing the index cards for the verses I need to learn in order to be caught up with my 100 Bible Verses in 2013 paces, and then I'll start working on memorizing them. Since I rarely travel by interstate, I have lots of time spent at stop lights that can be used to help me learn the new verses.
Goal Planning Monday is now hosted by Debbie at
Debbie's Digest
. We'd love to have more bloggers join us in setting goals and getting things done!
©2009-2013 Through the Calm and Through the Storm. All rights reserved. Photos and content may not be reproduced. http://throughthecalmandthroughthestorm.blogspot.com