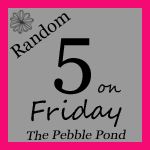 1. The kids have decided that it's now warm enough in our neighborhood pool to go swimming in the afternoons. I'm still not convinced and haven't ventured past dipping my legs in the water.
2. I had two really awesome runs this week. On Tuesday, I finally drug myself out of bed early enough to run with some ladies from church, and I was pleased with my run yesterday morning too. I finally feel like I'm back in a good groove.
3. We've been busy with baseball games a few nights each week, and Brennan's recent highlight was hitting a bases-loaded triple.
4. We're also quickly approaching a busy few weeks of rehearsals and performances for Addison and the Tucson Girls' Chorus. Next year, I'll be even busier. Lauren auditioned to be part of the Ladybugs (one of the younger TGC groups) last weekend, and now I have two singers on my hands.
5. Tonight I'm thankful for a good report from Lauren's cardiology visit this morning. I'm always relieved when I hear the doctors say that her new strong heart looks "perfect."
©2009-2013 Through the Calm and Through the Storm. All rights reserved. Photos and content may not be reproduced. http://throughthecalmandthroughthestorm.blogspot.com