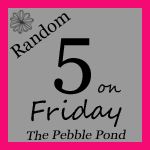 I didn't keep track of highlights or quotes or anything special this week, so these five tidbits will be truly random.
1. While traveling with Brennan and Lauren, we passed a car carrier that was packed full of golf carts. Brennan's response: "I'm now one step closer to seeing everything there is to see in the world."
2. I saw the temperature reading on my van's dashboard hit triple digits twice this week. I guess it's summertime.
3. While discussing the dress code for Addison's upcoming chorus tour, one of the girls reminded everyone that "modest is hottest."
4. After getting up before 5:00 to go running a couple of times, my whole body schedule is warped. This morning I felt like I had slept in -- it was almost 5:30 when I woke up.
5. Right now, Brennan and Tim are watching Weird Al Yankovich videos on You Tube. (Talk about random).
©2009-2013 Through the Calm and Through the Storm. All rights reserved. Photos and content may not be reproduced. http://throughthecalmandthroughthestorm.blogspot.com