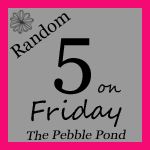 1. At first glance, black rice looks a bit like caviar.
2. I need a new crochet or knitting pattern . . . now. I have some sock yarn and lots of other yarns in my stash, but I don't have anything that I'm in the middle of doing right now. My hands are getting restless, especially during read-aloud time.
3. My SuperMommy feat for this week was repurposing one of Lauren's face masks into a hairband to keep her hair out of the way when she was at the doctor the other day. It wasn't pretty, but it worked.
4. I went to a specialty running shoe store this afternoon and the street in front of it was closed due to a horrible motorcycle accident. I had to park about a block away, but I decided it would have been really lame to not buy running shoes because I couldn't find a parking spot close enough.
5. Lauren finished a Princess lapbook that she's really proud of, and I'm giving away a copy, too.
(You can click on her picture to go enter the contest.)
©2009-2013 Through the Calm and Through the Storm. All rights reserved. Photos and content may not be reproduced. http://throughthecalmandthroughthestorm.blogspot.com