I've sometimes thought that I needed to be more intentional about teaching Addison money management skills.
WealthQuest for Teens
stepped in to fill that gap and to show me how I can better prepare Addison for her future.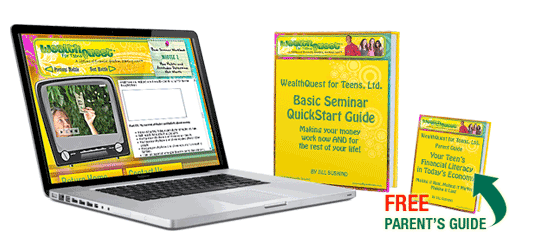 The WealthQuest for Teens package includes an online video seminar, a QuickStart Guide for teens to complete, and a parent's guide.
I watched the video seminar with Addison over the course of a couple of evenings. The QuickStart guide was primarily for her to work on independently and provided many opportunity to apply the money management concepts to her own life in a step-by-step fashion. At some points, we did think that the program assumed that the teen either had no money knowledge at all or had already fallen into poor ways of managing their money. Overall, the program handled many issues in a way that would appeal to teens and teach good habits.
I was impressed with the way this program defines wealth and success. According to the promotional materials I received, "Wealth and being rich, in WealthQuest for Teens terms, means 'the amount of money you need to have the life you want and to make a difference in ways that matter to you.'" This idea is repeated throughout the videos.
Like many money management programs, WealthQuest for Teens teaches budgeting by dividing a teen's income into six different categories. At their suggestion, Addison set up free accounts at moneytrail.net to manage her new allowance income. She has virtual accounts set up for her church offering (what WealthQuest calls "heal the world"), long-term savings (for retirement), savings for a big-ticket item, necessities, and fun money. Although the program does not handle money, it allows us to track the allowance that I owe her and then to deduct the money that I give her as cash or spend on her behalf.
Addison and I both learned a lot from the WealthQuest for Teens program. The parent's guide reminded me of how important it is to teach my children money skills and then gave me the ideas I needed to implement a meaningful allowance system for my children. Addison now has the tools and the knowledge in place to start managing her money wisely.
The
WealthQuest for Teens
program costs $39.95 and is intended to be used by teens ages 14-19. Addison says it would be more helpful to use if she was already old enough to have a job (and therefore a bigger source of income).
Disclaimer: I received WealthQuest for Teens as a member of the 2012 TOS Homeschool Review Crew, and I received no other compensation. In return, I agreed to give an honest review of the materials and how they worked for my homeschool family.