Over the years I've tried several different programs to teach my older two children to type correctly. I've pretty much given up on getting Addison to use the correct finger placement, but I think I still have a chance with Brennan and eventually with Lauren.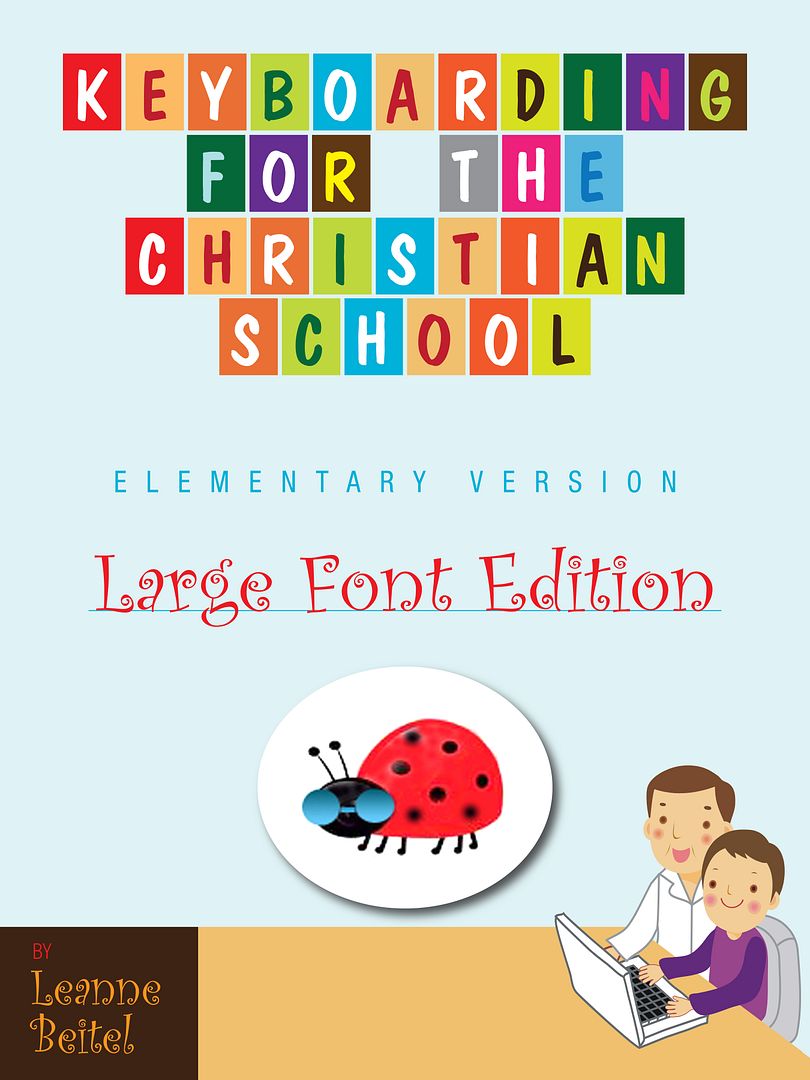 The key I've found is consistent, supervised practice. Addison learned to type using
Keyboarding for the Christian School
a few years ago, but I didn't pay attention to what she was doing when she was typing the exercises. She types fairly quickly, but she doesn't necessarily use the correct touch typing fingers, and I'm not sure if she can type without looking at the keys. When I recently received the Elementary Version of
Keyboarding for the Christian School
, I decided to pay closer attention to Brennan's practice session.
Keyboarding for the Christian School
is a very simple typing instruction textbook. Each of the 31 lessons introduces new keys and has four to six short exercises to type. There is a review lesson for additional practice after every sixth lesson. By the end of the book, the student has learned to type letters, numbers (including using a number keypad), and all punctuation marks. Some of the later lessons cover basic formatting using Word.
There aren't any fun games with this typing program. In fact, it reminds me of a dusty old typing manual that my mom checked out of the library when I was in about seventh grade. I've found that I prefer using a simple typing program, one that just has the student typing words and sentences.
I realized that the key to good typing instruction is my involvement. I have seen Brennan playing typing games on other programs and just using whatever finger is convenient at the time. Since I'd like my children to become touch typists and to use the correct finger placement, I realized that I'd have to supervise typing practice until it became second nature. When Brennan sat down at the computer for keyboarding practice, I'd sit beside him to make sure that his fingers were indeed on the home row and that he was in fact using the correct finger for each letter. It takes a lot of my time in the beginning, but I hope it will pay off for him with faster, more accurate typing in the future.
Keyboarding for the Christian School
is available as an ebook to download. When Addison used the regular version a few years ago, I printed out the pages for her to use. For Brennan, I usually opened up both the text and a blank Word document at the same time. I was able to arrange them on the computer screen so that he could see the instructions on the ebook and type in the blank document at the same time. Right now, we're traveling with just our laptop, and I have the keyboarding text on my nook for him to use.
One thing I am always interested in when reviewing a Christian product is how much Christian content is included and whether I agree with that content. In
Keyboarding for the Christian School
, there is a verse in the header at the top of every page. Once the student knows enough letter keys to type sentences, some of the practice exercises include scripture. Of note for me is the lesson on how to number a list of items. That practice page is a list titled "How to Have a Personal Relationship with God." When we get to that assignment, I will want to discuss their points with my children and compare them to our own beliefs.
Keyboarding for the Christian School, Elementary Version
is available to download for $12.95, with a choice of either regular or large print for that price. Also, the company has generously offered a discount code for 20 percent off the purchase price until August 29, 2012. You can enter SUMMER2012 during the check-out process.
Disclaimer: I received an electronic copy of Keyboarding for the Christian School, Elementary Version as a member of the 2012 TOS Homeschool Review Crew, and I received no other compensation. In return, I agreed to give an honest review of the materials and how they worked for my homeschool family.