About this time last year, I learned that Lauren need more specific directions than just, "Be good." For instance, when we go to a doctor's appointment, I need to tell her my specific expectations. "Be good" at a doctor's office means: let Mommy have a turn to talk to the doctor, let the doctor do the exam, and don't talk in silly voices. It's a lot harder to define "be good" on regular days though. What virtues does the simple phrase "be good" include?
We Choose Virtues
gave our whole family words a lot more specific than "be good" to use and tangible goals to work towards. Instead of just talking about how we should do good on our schoolwork, I can encourage my kids to work diligently or to be attentive.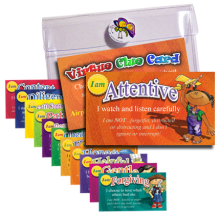 I've been using the Virtue Clues cards to teach my kids about virtues. Each of the twelve small cards shows a Virtue Kid, defines the virtue, and then gives a few examples of what that virtue is not. For instance, the content card read, "I am content. I have my 'wanter' under control. I am NOT... bored, greedy, always wanting more, and I don't beg or whine."
I like the way each virtue card includes both what it is and what it is not. All too often I know what I'd like my kids (or myself) not to do, but I don't look hard enough to figure out why it is a problem. Whining means you are not being content, rowdy means you are not being self-controlled, etc. Framing these virtues in a positive way gives a goal to work towards not just a misbehavior to avoid.
I introduced one virtue card per week, posting them on our refrigerator for easy reference.
The clue cards gave my family a nice introduction to the virtues, and my kids learned quite a bit. One day after I had introduced the Diligent card, Lauren's dictated this journal entry: "Yesterday we learned a new word. Diligent means start fast, work hard, and finish strong. This morning we started fast. We were not slow camels in the desert. I am going to work hard and finish strong today." Another day, she wrote, "I am going to be diligent and helpful today."
For Lauren, I reinforced my initial virtue teaching with pages from the Kids of VirtueVille coloring book that I downloaded.
My teenager thought that the illustrations were a bit childish, but agreed that the lessons were equally valuable for both younger and older kids.
I am strongly considering purchasing more of the We Choose Virtues, especially the Parenting Cards. These cards take the basic information I saw on the Clue Card and expand it to include a Bible verse, a users challenge, an inspiring story, and a section that teaches "What to say after 'I'm sorry'".
We Choose Virtues
offers a
Complete Homeschool Kit
in either regular or faith-based options for $99.99, the
Parenting Cards
(faith based) for $34.99, a
Kids Virtue Poster
for $11.99, the
Virtue Clues
cards for $5.99, and many other products. If you'd like to make a purchase, you can use either the promotional code VIRTUE15 for 15% off your order OR the code SHIPFREE for free worldwide shipping. They recently added a few clearance items that may be worth checking out.
Although I used We Choose Virtues with my homeschooled children, it is also appropriate for use by a family, in a classroom setting or for Bible classes.
If you'd like to hear how much the other members of the review crew thought about We Choose Virtues, please visit The Old Schoolhouse Review Crew blog
here
.
I received multiple We Choose Virtues products (Virtue Clues cards, VirtueVille Coloring book, and the Teacher's Handbook) as a member of the 2011 TOS Homeschool Review Crew, and I received no other compensation. In return, I agreed to give an honest review of the materials and how they worked for my homeschool family.