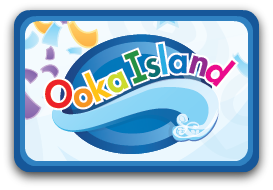 Ooka Island
is a computerized reading program that far exceeds my expectations in terms of kid appeal and educational quality.
Lauren loves it!
Lauren's actually quite fussy about what she does on the computer, and this is perhaps the first game in a long time that she'll choose to play without my encouragement (or more accurately, without me forcing her to play it). Even better, this program is set up so that a child follows Zobot through guided learning activities first, and then gets a chance to choose their own activity. Lauren willing plays 20 minutes of Zobot-directed games in order to earn free time to change her avatar's clothes or to play in the pencil playground. Several times over the past month, Lauren has played Ooka Island for an hour or more.
I love Ooka Island too!
Ooka Island has wonderfully designed activities that approach learning to read from both a phonics and a whole-word method. According to their online information, "The OokaMethod combines phonological development and language-rich text with comprehension activities so that children have the opportunity to achieve effortless reading." (If you are interested in a further explanation of the way OokaIsland approached reading, you can find it in a download
here
.)
When Lauren is in the Popcorn Library, she listens to a book, answers comprehension questions about it, and then completes a few simple vocabulary activities.
The other games provide extensive phonics practice. She is learning to pronounce all 44 sounds in the English language, to blend those sounds into words, to identify initial and final consonants in words, to identify rhymes, and much more.
Lauren and I highly recommend Ooka Island!
She's never had more fun playing an educational computer game, and I've never been this impressed with the quality of instructional activities in a game.
A subscription to Ooka Island costs $12.95 a month for one child or $19.95 for up to four children in your family. There are discounts if you purchase a six month or a one-year subscription. Right now, Ooka Island is offering a 30% discount if you use the code LAUNCHSPECIAL30.
If you'd like to what the other members of the review crew thought about Ooka Island, please visit The Old Schoolhouse Review Crew blog
here
.
I received a six-month subscription to Ooka Island as a member of the 2011 TOS Homeschool Review Crew, and I received no other compensation. In return, I agreed to give an honest review of the materials and how they worked for my homeschool family.