I am often drawn to purchasing new games -- board games, card games, dominoes, whatever. Oddly, I rarely pick out trivia games. I guess I don't see them as being as appealing as other types of games. Our latest review product changed my mind.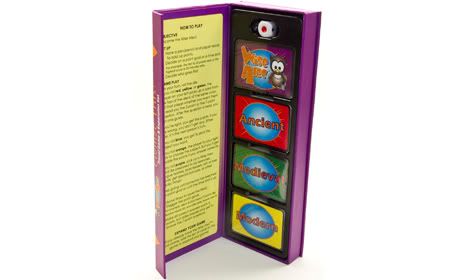 The Civilize This! game comes with four decks of cards and a multicolored die in a convenient travel case. There are three categories of history trivia questions -- Ancients, Medieval, and Modern. The only thing you need to add is a way to keep score (paper, marker board, etc).
When you toss the die, you may land on a color corresponding to one of the three trivia categories. Other colors on the die allow you to pick your favorite category or allow one of your opponents to pick a category for you. The final color on the die, purple, means that you get to pick a Wise Alec card.
Each card in the trivia decks has two questions, one easier and one more challenging. Based on the question answered, you can either score three or seven points for a correct answer. If you are answering a question in a category that was chosen for you, you would score double points. The values for Wise Alec cards vary and may sometimes even cost you a few points.
The Wise Alec cards were my favorite part of the game. They contain fun, or even goofy, stuff to do. For instance, one tongue twister card required me to say "stupid superstition" ten times in a row. One of Brennan's cards asked him to do a rain dance. He sang, "Oh... wooga, wooga, wooga. Oh.... rain, rain, come down, down." Another Wise Alec card had Lauren performing her best fencing moves.
On the other hand, my competitive husband found the Wise Alec cards to be frustratingly dumb. Apparently they got in the way of his competitive strategy to outscore our oldest daughter. She was successfully answering 7 point trivia questions, and he would often roll a Wise Alec card that only awarded him 5 points (and sometimes far less).


We all liked the way that the game has flexible scoring options. We could either play to a certain score or play for a given amount of time trying to get the highest score.

Griddly Games recommends Civilize This! (and all the Wise Alec games) for ages eight and up. I think that's spot-on. Brennan (age 10) could hold his own in the game, even though I didn't think history trivia would be his strong suit. Lauren (age 5) enjoyed playing along with a partner so that she could roll the die and do the Wise Alec challenges.
The original Wise Alec games costs approximately $25, and the three available expansion packs cost approximately $15 each. I'm strongly considering ordering one of the other expansion packs options -- either Nature Nuts or Sports Buffs. I think Brennan would love the sports one even more than he loved the history one we've been playing for the past few weeks. Addison wishes that they'd make another expansion set that covers American History.
In our family,
Civilize This!
got a resounding six thumbs up from the kids.
If you'd like to hear how much the other members of the review crew enjoyed their games from
Griddly Games, Inc.
, please visit The Old Schoolhouse Review Crew blog
here
.
I received a free Wise Alec Civilize This! game pack as a member of the 2011 TOS Homeschool Review Crew, and I received no other compensation. In return, I agreed to give an honest review of the materials and how they worked for my homeschool family.