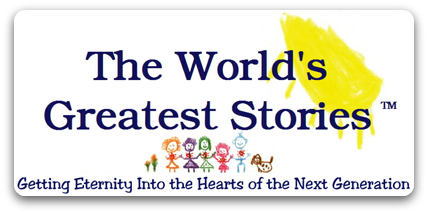 My kids are big audio book lovers. When we lived in an area with longer driving times, we always had audio books to listen to when we were in the car. Now Lauren and Brennan listen to audio books nearly every night when they go to bed.
We recently had the opportunity to hear some amazing Bible stories produced by
The World's Greatest Stories
. I hesitate to label them audiobooks; they are far more entertaining and enthralling than any audiobook I've ever heard. These stories are not merely someone reading verses from the Bible. George W. Sarris memorizes the scriptures and then retells the story so that it comes alive. It's truly a dramatic presentation. When I listened to the story of Daniel, I could imagine the scenes in Babylon when Daniel heard "the sound of the horn, flute, zither, lyre, harp, pipes and all kinds of music" and chose not to bow down to the image of gold. (After hearing the story a time or two, the entire phrase about the music was stuck in my head.)
I love the way that the stories came alive on these CDs. I also love the way that my children will learn the words of the actual scriptures as they listen. I really wish I had ordered
The Life of Christ
earlier so that we could all hear "The Real Story of Christmas" this week.
The World's Greatest Stories
offers six different audiobook volumes: The Prophets, The Life of Christ, Beginnings, Joshua & Esther, Joseph & His Brothers, Defeating Giants. Each one is approximately one hour long, costs only $7.95, and is available with the scriptures in either NIV or KJV. There are multiple audio clips available on the website if you'd like to hear a sample before you purchase one.
If you'd like to hear how much the other members of the review crew thought about The World's Greatest Stories CDs, please visit The Old Schoolhouse Review Crew blog
here
.
I received CDs from The World's Greatest Stories as a member of the 2011 TOS Homeschool Review Crew, and I received no other compensation. In return, I agreed to give an honest review of the materials and how they worked for my homeschool family.